On the 22nd November 2006, which seems to be an extremely normal Wednesday to other people but is uber special for the 800+/1000 students of South Australian Matriculation at Taylors College Subang Jaya. For them, the one year course of what people would probably rant about it the whole day, the course of hell, with tonnes of projects and stuffs to do. Common Tests, Assignments, Text Production bla bla bla, the list just never ends. But it ended on that special day.That night was SAM-CORROBOREE-PROM-2006. The final meeting of all SAM students, the final day to get to know the-person-you-know-who which u never managed to talk to him/her for a whole one year. Pathetic isnt it to make friends on the last day. haha
Me-Sean-Luke-Joe-Waiyip planned to stay over at the Pyramid Tower hotel. One room with 5 guys, you should know what havoc is it like! XD Before the prom, we went to A Cut Above to get our hair done. All of us wanted to look our best at the prom.
Basicly the food is just average. They probably got someones mum to be the chef. But eating was not our main purpose on that night. All of us were busy taking pictures. No words can describe the excellent feeling everyone had on that night! Some pictures of the food we ate, however some food missing cos we were busy snapping photos!
While eating, we watched a few nice performances:
How dance originated: incredibly portrayed and seriously funny on how the dances of every kind originated from cockroaches and more cockroaches.
Band: Yes, I like the Peter Pan-Mungkin Nanti! gosh!
Solo: This cute girls sing Aul Lang Syne and other songs. We tagged along and sung like we were in Red Box Karaoke. Luke lost his voice that night!
Dance Time- Instead of ballroom dancing which most of us wouldnt know how to dance anyway, they turned the whole grand ballroom into a disco party with crazii lights all over…gosh…and i was thinking what to say to the girl i dance with if i accidentally step onto her foot and before i knew it they turned the lights off for disco party. -.-
and me? i was dancing like crazy till me-luke-kavi and a few others went onstage..
Adrian got into photogenic mode and started snapping photos!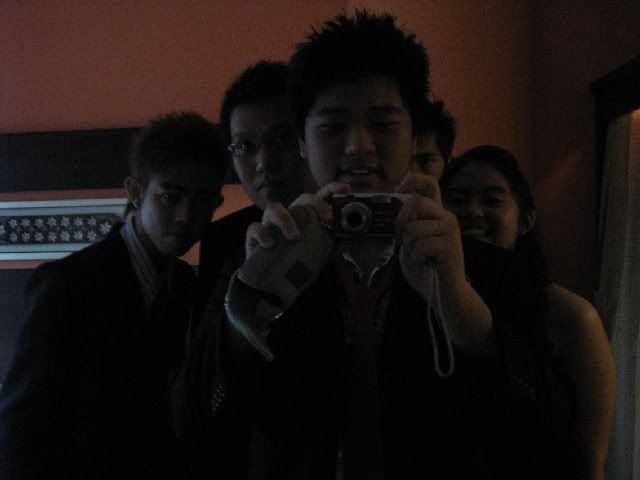 A great photo because of the lighting. Taken at the hotel room where everyone gets dressed up, preparing for the prom.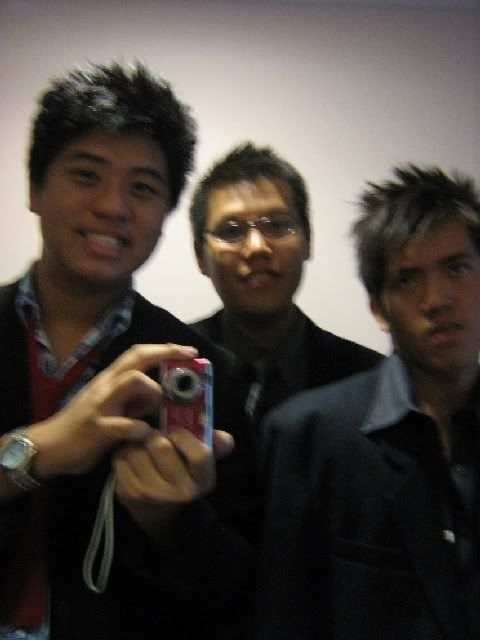 The guys, (from left) Me, Wai Yip and Joe cam whoring. Proud of how we looked that night!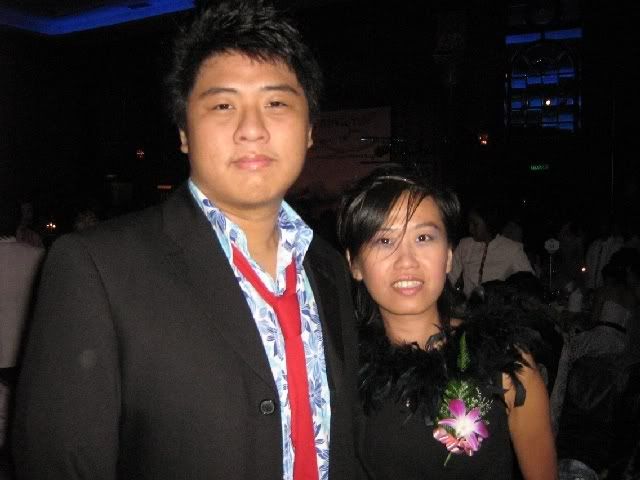 Me and my dearest maths teacher, Miss Yeap. I will always remember how she wants me to REPEAT THE QUESTION OUT LOUD!! SEE? YOU CAN SOLVE!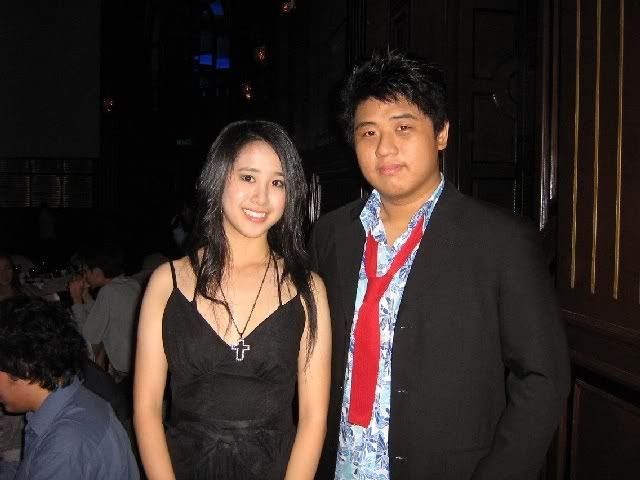 Me and Terese. *smileeess sweeetly*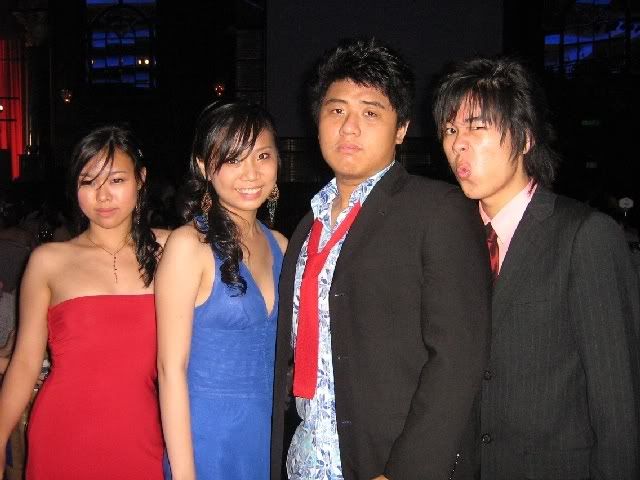 From left, Jolene, Faye, Me and Daniel.
The guys of class G16, rendered minority by the number of girls in our class. From left Daniel, Kien Seng, Wai Yip, Me, Sean, Luke, Joe.
Joe, Julie and Adrian. tired after dancing.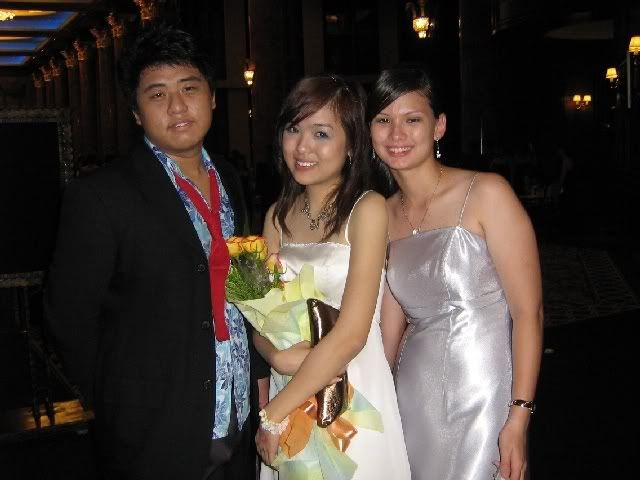 Me, a sweet looking girl and the prom queen. They looked really pretty that night!
I came into the class of G-16, one day late. I missed the orientation, i missed the introduction part. i ventured into a totally new space. The only people i know that time is Chiew Li and Li Anne, my ex-schoolmate for long long time already-years i didnt keep track of.
Mr.Tsung: Tell us something about yourself?
Adrian: Err, nothing much. Im from Klang, studied in SMK Raja Mahadi…
Mr.Tsung: Hobbies?
Adrian: internet, books, movies
Mr.Tsung: What movies? give us an example of a movie u recently watched?
Adrian: err…Memoirs of Geisha?
Mr.Tsung: Is that movie out in cinema yet? o.0
Adrian: ….
Mr.Tsung: dun bring your illegal activities to college okay?
Yes dear Mr Tsung, you embarassed me. I know i watch DVD alot.. shhh!
One year has gone, G16 is no longer just an alphabet and 2 numbers joined together to group people based on their course: Bioscience Pre-U
I believe, it brought together smiling faces, sad faces, people of every kind, people who will deeply treasure the meaning of G-16. The spirit of G-16 2006 will never die. All the cheers, joy, fun, memories will remain. Because they are preserved into words, photos, videos that will last for immortal time.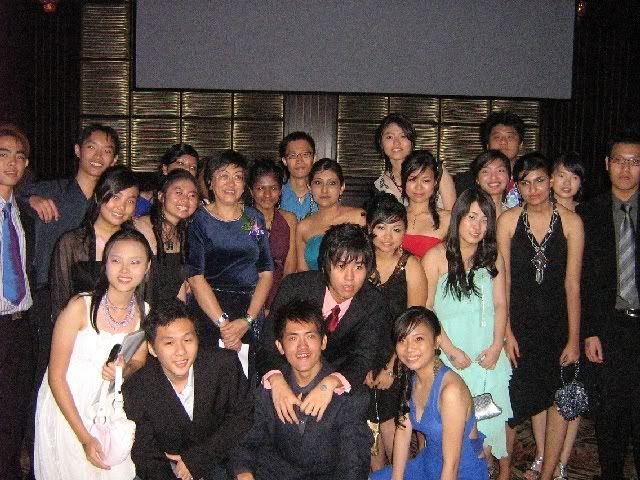 The class of G-16 2006 Taylors College South Australian Matriculation.
Thats not all. There are tonnes of photos which i will put into a slideshow for you guys to see, it loads faster that way.
For you guys and gals who wants to download the pictures and save it please go to my prom online photo album:
i miss you all. lots. muacks.